Servo motor repair
Your servo motor needs to be repaired? Then contact us! In special cases our good contacts to the manufacturers of the servo motors can also help. With our fetch & delivery service, your servo motor is quickly back ready for use!
On site or in our workshop: As an engineering office/technical service provider, we repair servo motors and other electronic components as well as frequency inverters for you or your customers.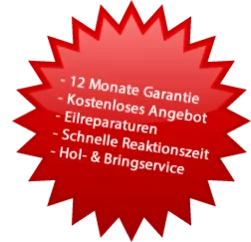 The services at a glance: Repair of servomotors
Check Up

Tests of stator windings/winding diagnosis
Roller bearing diagnosis
Vibration measurement
Insulation check
Impact stress analysis

Dismantling
Cleaning
Waves

Overhaul
Straighten
Rework
Measure
Plan Run
Roundabout
Coaxiality

Balance control (incl. dynamic balancing of motor shafts)
Anchor repair
Bushes of end shields
Refurbish bearing seats
Redevelopment of motors (incl. impregnation and hardening)
Complete overhaul: Wear parts are replaced? engine as new / running time of a new engine
Installation incl. bearings and seals
Adjustment, test run
Testing according to VDE / mechanical and electrical final inspection
Test protocol
Painting (all colours according to customer requirements)
This should also interest you:
Failure of servomotors can also be corrected without contacting the manufacturer. Servomotors can be repaired with equipment and the corresponding know-how just as quickly and with utmost care.
But: This is only possible with regular training of the technicians. The cornerstone is a professional technical training and a many years of operational experience (apprentices excluded).
Other than servo motors from SEW, Bosch-Rexroth, Siemens, Lenze or others, we have already been able to return many customers repaired and thus fully functional servo motors that could be put back into operation immediately. repair of servo motors.
Please take a look at our references. We hope that we can soon count you among our select customer base. ATG Engineering now has over 20 years of experience in engine technology.
Uncomplicated procedure
Step 1: Simply call us on weekdays between 8:30 a.m. and 5:00 p.m. (+49(0)211 17607186), send us an e-mail (info@atg-engineering.de) or use the contact form. Tell us the manufacturer and type and we will let you know whether the frequency inverter can be repaired and, depending on your description, whether it is also worthwhile economically. In case of doubt we can offer you a replacement at favourable conditions.
Step 2: Send us the frequency converter or use our collection and delivery service.
Step 3: Within one working day you will receive a binding offer for the repair of your device.
Why ATG Engineering?
We are also very familiar with older models and can help reliably and quickly.
Many years of close cooperation with the manufacturers of your drive technology and other service providers enable us to repair almost all frequency inverters, to procure even rare spare parts and to deliver your frequency inverter back to you ready for operation.
PDFs:
Geared motors: Project planning & Sale
Additional info:
Repair of servo motors and spindle drives with original manufacturer software. PDFs:
You need our repair services?
Since 1993 we have been there for our ever-growing customer base. We would be pleased to support you, too.
Cloos servo drives – welding robots
Spare parts are available for almost all makesSpare parts are in stock.
Other makes on request.
In the case of freight forwarding packaging, the dimensions of the packaging and the weight up to 11.00 o' clock, the by TNT.
Own regular maintenance / cleaning
More often than you might think, it is impurities that lead to defects, e.g. in the unit's own cooling system, or to age-related wear and tear, such as condensers drying out. The end result is the total loss of the power output stages and the energy supply. Therefore, the following applies: In drive technology, frequency inverters, drives etc. can be kept in operation for a long time by regular expert maintenance and preventive measures.
After professional cleaning and the replacement of typical wear parts, the appearance of many devices can be greatly improved.
We show you here how you can increase the service life of your drive technology with little effort: gearbox maintenance
If necessary, it is also possible to rent out replacement units (if in stock) during preventive maintenance!
Repair of the drive technology from …
Bosch Rexroth
Siemens
SAD
ABB
SSB
MOOG
Fanuc
SEW Eurodrive
Kessler
Lenze
Baumüller
Stöber
Indramat
Marvilor
Parvex
Kollmorgen Seidel
CT Control Techniques / Emerson
and more…