Buy geared motors – Project planning, calculations incl.
We offer project planning of your required drive (required torque, power, speed, etc.) in addition to the geared motors.SEW Sales Department
Please contact us now for a non-binding offer! By the way, of course we also distribute drives such as Servo motors, standard motors and special motors.
Standard geared motors
Three-phase electric motors with the following gear types cover the widest range of all possible applications.
From 0.09 kW to 200 kW or from 50 Nm to 19000 Nm.
Axis of output shaft parallel to motor axis of rotation
From 0.12 kW to 200 kW or from 130 Nm to 18000 Nm.
Axis of the output shaft parallel,
but offset from the motor axis of rotation.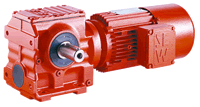 From 0.09 kW to 30 kW or from 92 to 4200 Nm.
axis of the output shaft perpendicular to the motor rotation axis.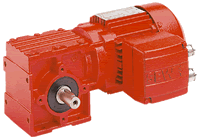 Spiroplan geared motors
From 0.09 kW to 4 kW or from 25 to 180 Nm.
Axis of the output shaft perpendicular to the motor rotation axis.
From 0.12 kW to 315 kW or from 200 Nm to 50000 Nm.
axis of the output shaft perpendicular to the motor rotation axis.
You are interested in geared motors and our services ?
Since 1993 we are responsible for our further growing customer base. We would be pleased if we could also support you. Please contact us or …
Variants
Apart from the fact that gear units and motors can be of different dimensions/equipment, there are other important features depending on the use of the gear motor. We will be pleased to advise you!
Spatial position/design
Attention please: Depending on the spatial position of the geared motor (installed / in three-dimensional space), a sufficient filling level with oil must be ensured. All teeth, rolling bearings, etc. must be immersed in oil by revolutions and completely lubricated.
The spatial position determines the design: foot, flange or in a few cases even both.
Cooling
While the gearbox is very heat stable, the engine must be sufficiently cooled.
Normally, a geared motor cools itself. In exceptional cases, a forced cooling fan must be fitted.
Position terminal box / cable entry connector position
This point again concerns the nature of the site. Of course, one would like to have good cable accessibility. The position of the terminal box on the motor and the cable entry should be well planned.
With & without brake (SEW-brakes & brake rectifier)
With & without tacho transmitter (for operating the geared motor via frequency converter)
With explosion-proof three-phase motors (ATEX) for use in potentially explosive atmospheres (EU Directive 94/9/EC (ATEX), or from 20.04.2016 on EU Directive 2014/34/EU (ATEX))
Temperature sensor
Aseptic gear motors
In some applications like:

Food, luxury food and beverage industry
Chemical / pharmaceutical industry
Dairy / Cheese factory
etc.

special hygiene regulations must be observed. Gearmotor housings must be cleaned regularly and even treated with disinfectant . For this reason, they must be closed and the surface must be painted accordingly. In addition, aseptic gearmotors are larger in size because they do not require ventilation and the heat can only be dissipated via the larger surface of the housing.
Special gear motors
We also distribute gear motors for less common applications in industry and large scale industry.
Servo-planetary gearboxes
up to 3,000 Nm
Industrial gear units up to 600,000 Nm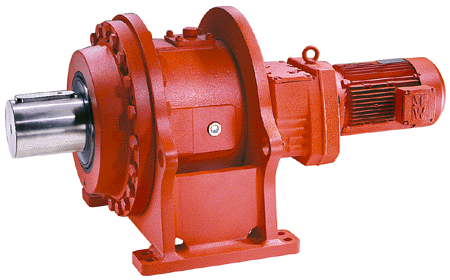 Planetary gearbox
up to 1,400,000 Nm
Gearmotors Manufacturers
We generally recommend drive technology from SEW. We can also fulfill special customer requirements (other manufacturers) due to our extensive product portfolio. We can therefore also offer you gear units and gearmotors from the following manufacturers: