Parallel shaft helical geared motors
Due to our long-standing contact with SEW, we can offer you the entire SEW product range at good prices: SEW Sales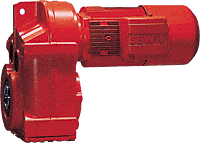 From SEW & other manufacturers
Parallel shaft helical geared motors are used less frequently than helical gearmotors, since they are mainly used when, for example, very little space is available in process or materials handling technology or when the output shaft must be a hollow shaft.

For these drive engineering applications, SEW offers its F..DR… series parallel shaft helical gearmotors, which have a very slim design and can be combined with any AC synchronous motor thanks to SEW's modular system. For special customer requirements, we also fall back on other parallel shaft helical gearmotors manufacturers in the engineering area.
How we work? You provide us with the requirement profile and we supply you with a customized and individually dimensioned parallel shaft helical gearmotor, powerful, dynamic and above all reliable.
Area of application:
Materials handling applications
Chain conveyor
Process engineering applications
Stirring drives
Trolleys
Storage and retrieval machines
Vertical conveyor
Presses
Extruder
Screw conveyors
Gantry cranes
Technical specifications:
Torque: 90 – 100 000 Nm*.
Power output: 0.12 – 200 kW*
Approx. 98% efficiency per stage 95 % efficiency*)
*Depends on manufacturer. Please contact us!
Variants
Apart from the fact that gearboxes and motors can be differently dimensioned/equipped, there are other important properties depending on the use of the helical geared motor.
Spatial position
The spatial position determines the design: foot, flange or in some cases even both.
Cooling
With or without forced cooling fan
Position of the terminal box and the cable entry / plug position
With & without brake
With & without tachometer encoder (for operation of the geared motor via frequency inverter)
With explosion-proof AC motors (ATEX)
Temperature sensors
Solid shaft and hollow shaft possible
Aseptic geared motors (keyword: hygiene)
Helical parallel geared motor alternatives
Use with frequency converter
The speed of flat geared motors as well as other types of geared motors can be controlled with a frequency converter. However, the parallel shaft helical gearmotor should be protected against overheating by means of a PTC thermistor, reduced current or other measures when reducing the speed.
Manufacturers such as SEW offer frequency inverters that are mounted directly on the housing of the parallel shaft helical gearmotor to save space. We would be pleased to supply you with the frequency inverter that matches your parallel shaft helical geared motor. We would be happy to advise you. More about this: frequency inverter
Increase efficiency, retrofit now!
A conversion to energy-saving helical geared motors pays for itself after 2 years at the latest.
However, we are also happy to help you with the conversion to helical geared motors from various manufacturers.
Helical parallel geared Manufacturer
We generally recommend parallel shaft helical gear units and parallel shaft helical gearmotors from SEW. We can also meet special customer requirements (other manufacturers) due to our extensive product portfolio. We can therefore also offer parallel shaft helical gear units and parallel shaft helical gearmotors from the following manufacturers:
.
Gearbox construction north
You are interested in parallel shaft helical geared motors and our services ?
customer base. We would be pleased, if we may support you as well. Please
contact us
or …