SEW Buy bevel geared motors
Due to our long-standing contact with SEW, we can offer you the entire SEW product range at good prices: SEW Sales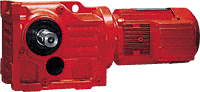 Bevel gearboxes
Bevel gearboxes are angular gearboxes (input and output shafts at an angle to each other), in which power is transmitted via bevel gears. Bevel gearboxes consist of a ring gear/bevel gear with straight, helical or curved teeth (rare) and the bevel pinion, whose axes are usually at right angles to each other. The drive is normally effected via the bevel pinion, both left and right rotation is also possible.
Due to our long-standing contact to SEW (for special customer requests but also to other large bevel gear unit manufacturers) we can additionally convince with low prices. E.g.:
Let us send you a non-binding offer now!
Application
luggage conveyors
cargo conveyors
cable jacks storage technology
travel drives
mixers
Advantages
Low maintenance
Robust
High power density
High efficiency
Space-saving installation, Angular gear unit
Output shaft: Solid or hollow shaft (different variants possible, e.g.e.g. shrink disc, splined shaft, etc…)
Is this topic perhaps of interest to you?
bevel gear vs. worm gear | advantages & disadvantages
Variants
Spatial position
The spatial position determines the design: foot, flange or in a few cases even both.
Cooling (with or without forced cooling fan)
Position of the terminal box and the cable entry / plug position
With & without brake (SEW-brakes & brake rectifier)
With & without tacho encoder (for operating the gearmotor via frequency inverter)
With explosion-proof three-phase motors (ATEX)
Temperature sensor
Also hollow shaft possible
Aseptic gear motors (keyword: Hygiene)
Bevel gear unit alternative
Use with frequency converter
We recommend to control the speed of bevel geared motors as well as other geared motors by means of a frequency converter. However, when controlling down, the bevel geared motor should be protected against overheating by means of a PTC thermistor, reduced current or other measures. Please contact us, perhaps you would like a frequency converter that is directly attached to the housing of the bevel geared motor? These are offered by SEW and many other gearmotor manufacturers. We will find the right combination for you. We will be happy to advise you. More about frequency inverters: frequency inverters
.
Bevel geared motors from SEW Eurodrive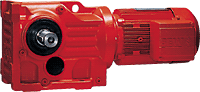 The SEW K. series helical-bevel gearmotors.DR… helical-bevel gearmotors offer outstanding product features:
robust, low-maintenance
high performance
compact
high efficiency, AC induction motors with efficiency classes IE1 to IE4
Available rated gear unit torque: From 50 to 50.000 Nm
Gear unit designation from SEW:
2-stage: 4 sizes from K19 to K49, rated gear unit torque 80 to 500 Nm, max. motor output: 2.2 kW
3-stage: 16 sizes from K37 to K187, rated gear unit torque 500 to 50.000 Nm, max. motor output: 200 kW
multi-stage (double gear unit/combined with spur gear units): 200 Nm to 50,000, max. motor output: 55 kW
Max. Motor output: 200 kW
You are interested in bevel gear units and our services ?
Since 1993 we are responsible for our further growing customer base. We would be pleased if we could support you as well. Please contact us or …
Bevel geared motors manufacturers
We generally recommend bevel gear units and bevel gearmotors from SEW. We can also fulfill special customer requirements (other manufacturers) due to our extensive product portfolio. We can therefore also offer you bevel gear units and bevel geared motors from the following manufacturers: E.g. Siemens: Bevel gear units SIMOGEAR