Worm Geared motors – Gearmotor with Worm Gear Unit
Thanks to our long-standing contact with SEW, we can offer you the entire SEW product range at good prices: SEW Sales
Worm gear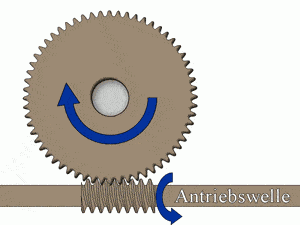 In the angular gear units of the worm geared motors, shafts with helical gears (also called worms) are used. A worm drives a gear wheel with helical gearing, the worm gear. In this way, the shafts are offset by 90° to each other. With a worm gear both directions of rotation are possible. Due to the high self-locking effect, brakes can be dimensioned smaller. (Further Advantages & Disadvantages of worm gear motors)
There are single to three-stage worm gear motors. The helical-worm gearmotors of the MOTOX series from Siemens, for example, are single-stage, while the helical-worm gear units from SEW generally have 2 stages (with an upstream helical gear stage), which increases efficiency and makes the gear units run more smoothly.
Due to our many years of contact with SEW (but also with other large helical-worm gear unit manufacturers in the case of special customer requirements), we are also able to convince with low prices. E.g.:
Let us send you a non-binding offer now!
Application
Theatre drives
Actuating drives
Presses
Rotary indexing tables
Angle converter
Advantages
High load capacity / Robust
High reduction ratio
Self-locking ⇒ Brakes can be dimensioned smaller.
Full shaft or hollow shaft
Disadvantages
Variants
Spatial position
The spatial position determines the design: foot, flange or in a few cases even both.
Cooling (with or without forced cooling fan)
Position of the terminal box and the cable entry / plug position
With & without brake (SEW-brakes & brake rectifier)
With & without tacho encoder (for operating the gearmotor via frequency inverter)
With explosion-proof three-phase motors (ATEX)
Temperature sensor
Also hollow shaft possible
Aseptic gear motors (keyword: Hygiene)
Worm gear unit alternatives
Bevel geared motor (better efficiency / space-saving)
Spiroplan gearmotor (special SEW gearmotor)
Servo geared motors ⇒ Servo helical-worm gearmotors (more compact dimensions, lower weight and higher dynamics)
Use with frequency converter
The speed of worm geared motors can be controlled by a frequency converter just like that of other types of geared motors. However, the worm gearmotor should be protected against overheating by means of a PTC thermistor, reduced current or other measures when reducing the speed.
SEW, but meanwhile also all other manufacturers, also offer frequency inverters for this purpose that are directly connected to the housing of the worm gearmotor. We would be pleased to supply you with the frequency converter that matches your worm geared motor. We would be pleased to advise you. More about this: frequency inverter
Enhance efficiency, now change over!
A conversion to energy-saving gear motors usually pays for itself after 2 years at the latest. Here we present the frequently requested worm geared motors from SEW, Nord, Bonfiglioli, Bauer Gear Motor, ZAE AntriebsSysteme, Lenze, Bege and Siemens. However, we will also be pleased to help you convert to
worm geared motors from other manufacturers
.
Series S
The SEW helical-worm gearmotors of the S..DR… series offer outstanding efficiency compared to pure helical-worm gearmotors from other manufacturers due to the combination of worm gear set and helical input stage. In combination with the three-phase asynchronous motors of efficiency classes IE3 and IE4, they achieve a comparatively high energy efficiency. Do you have any questions? Contact us please!
Available rated gear unit torque: From 92 to 4200 Nm
Gear unit designation from SEW:
From size S37 (92 Nm) to S97 (4000 Nm) (2-stage)
Double gear unit with helical gear unit:
Size S37R17 (93 Nm) to S97R57 (4200 Nm)
Max. Motor power: 30 kW
You are interested in worm gear units and our services?
Since 1993 we are responsible for our further growing customer base. We would be pleased if we could also support you. Please contact us or …
Worm geared motors manufacturers
We generally recommend worm gear units and helical-worm gearmotors from SEW. We can also fulfill special customer requirements (other manufacturers) due to our extensive product portfolio. We can therefore also offer you helical-worm gear units and helical-worm gearmotors from the following manufacturers: (e.g. MOTOX helical-worm gearmotor)