SEW: Sales of automation and drive technology as well as spare parts
Due to our close contact to SEW for more than 25 years, we have the best overview of the SEW product portfolio and can always convince with competence and low prices.
Let us send you a non-binding offer now!
Gear units, motors and inverter technology
With the help of the SEW modular system, gear units, motors and gearmotors can be configured in all conceivable sizes and combinations. In addition, these drives are also available in ATEX, aseptic or stainless steel housing.
Combined with the appropriate frequency inverter, drive technology from SEW can provide a solution for every application, the requirements are optimally met.
We will be happy to advise you!
Geared motors
Helical geared motors: From 0.09 kW to 200 kW or from 50 Nm to 19000 Nm. Flat geared motors: from 0.12 kW to 200 kW or from 130 Nm to 18000 Nm.
Worm Geared Motors: From 0.09 kW to 30 kW or from 92 to 4200 Nm.
Spiroplan geared motors: From 0.09 kW to 4 kW or from 25 to 180 Nm.
Bevel geared motors: From 0.12 kW to 315 kW or from 200 Nm to 50000 Nm.
Three-phase AC motors
Efficiency classes up to IE4
Power range from 0.09 kW to 225 kW
Options: Brakes, encoders, plug connectors, forced cooling fans, special coatings and paints
May be interesting for you?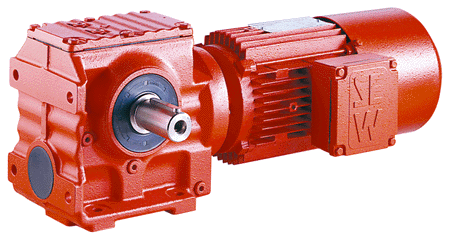 Frequency converter
Switch cabinet installation

Single inverter MOVITRAC® LTE-B
Standard inverter MOVITRAC® LTP-B
Standard inverter MOVITRAC® B
Application inverter MOVIDRIVE® B
Servo multi-axis inverterMOVIAXIS®
Regenerative power supply inverter MOVIDRIVE® MDR

Wall mounting

MOVI4R-U® single inverter in IP 54
MOVITRAC® LTE-B single drive IP 66
Standard MOVITRAC® LTP-B inverter in IP 55 or IP66

Decentral motor starter

Single motor starter MOVIFIT® compact
MOVI-SWITCH® motor starter
Motor starter MOVIFIT®-SC

Decentral/near to the engine:

Single inverter MOVIFIT® compact
Standard inverter MOVIMOT®
MOVIFIT® MC Classic distributor: for MOVIMOT®
MOVIFIT® MC controller – Technology: for MOVIMOT®
Standard inverter MOVIFIT®-FC – Classic
Standard MOVIPRO®-SDC inverter
Application inverter MOVIFIT®-FC – Technology
MOVIPRO®-ADC application inverter
More about this: Frequency inverters from SEW
You are interested in SEW-Antriebstechnik
Since 1993 we are responsible for our further growing customer base. We would be pleased if we could also support you. Please contact us or …
If your application depends on precision and dynamics, then you should use servo drive technology.
SEW offers various components for this purpose.
Servo motors
Asynchronous servo motors DRL…
Synchronous servo motors CMP series… (High Dynamic)
Synchronous servomotors CM.. (High Inertia)
Explosion-proof motors CMP…
Torsion-proof servo gear units
PH.F / PS.C servo planetary gear units
BS.F servo helical-bevel gear units
Servo gearmotors
Servo planetary gear motors PH.F..CMP / PS.C..CMP…
Helical-bevel servo geared motors K..CMP…
Helical-bevel servo geared motors BS.F..CMP…
Helical-worm servo geared motors S..CMP…
Helical-helical servo geared motors R..CMP..
SPIROPLAN® right-angle servo gearmotors W..CMP..
flat-angle servo gearmotors F..CMP..
precision servo gearmotors ZN..
Frequency inverter
Servo linear motors SL2 & electric cylinder CMS..